Preview designs from the My Design page or from inside the Editor, to see how your designs will look outside of the Editor before you download or publish them.
Preview from the My Designs page
When previewing from this page, the design you preview will reflect the last changes you made in it at the time of them most recent auto-save.
Access the My Designs page and move your cursor over the design you want to preview.
Click the kebab menu (three vertical dots) next to the title of the design to open the menu.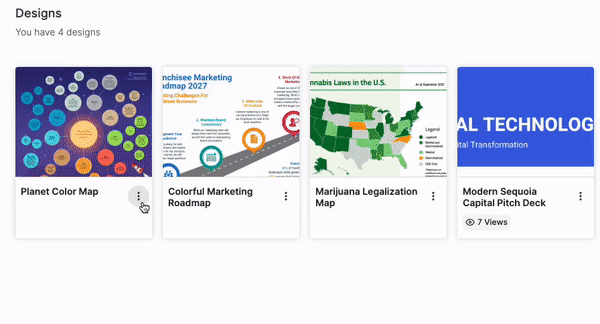 Click "Preview". A preview version of your design will open in the web browser in another tab or window.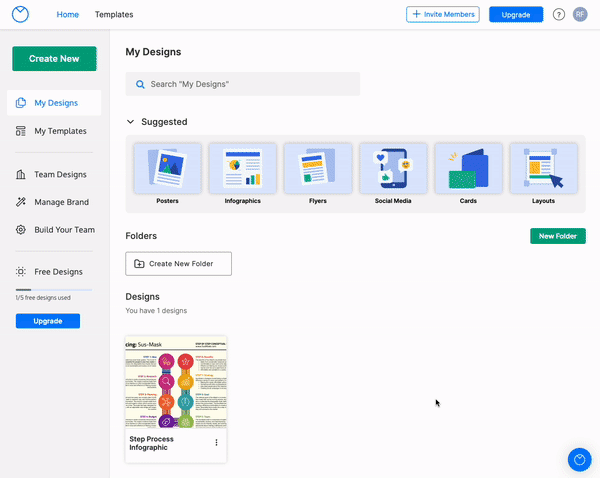 Use the arrows to move between pages in a multi-page design, or click the four arrows at the corner of the preview to view the design in full screen mode.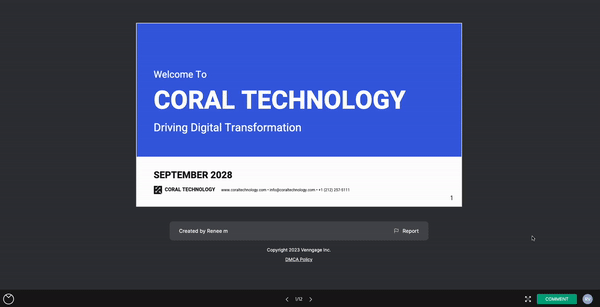 Preview from inside the Editor
Hover over the design thumbnail you want and click Edit.
Click the Preview button in the top toolbar of the Editor. You can find it in the top righthand corner, between the Share and Download buttons.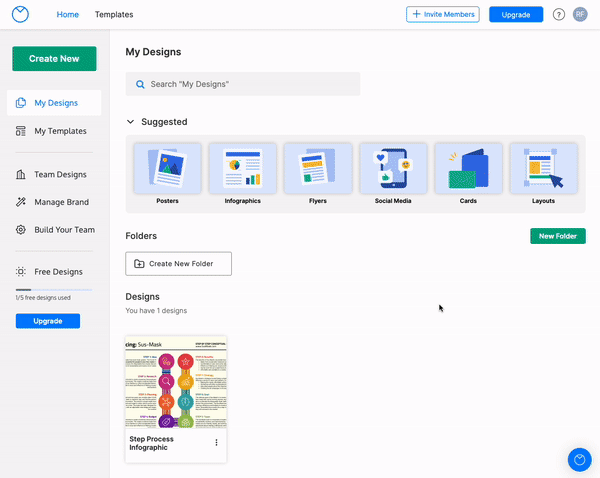 A preview version of your design will open in the web browser in another tab or window.
Your design will stay open in the Editor in the original tab; if you want to make any changes, you can customize the design in the Editor, then open a new preview to see your changes.
Share From Preview (Business+)
Business and Enterprise users can share their designs from a preview with the "Share" button in the bottom toolbar of the Preview.
Preview your design. Click Share in the bottom toolbar.
From here, you can either share the design to your Team Designs, or copy a link to share your design preview.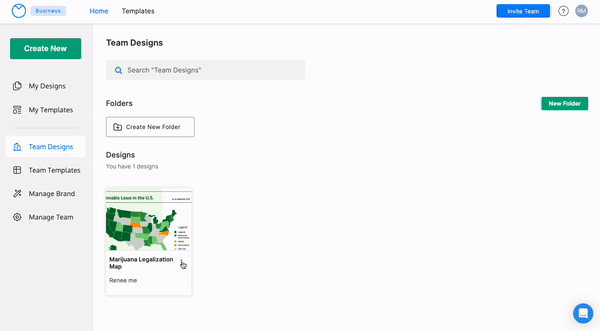 Turn on sharing to share the design with other members of your Team.
Copy a public link that you can send via email or message to anyone you want to share your design preview with. Anyone with the link and view your design and leave a comment on it (if they are signed into a Venngage account).

Curious about upgrading? Compare our plan features side by side.