ⓘ Section Summary

Venngage is here to make things as simple and easy for you as we can. Text with a "Section Summary" header gives a simple summary of the section of the policy or terms document in which it appears, with the aim of highlighting the most important bits. Please ensure you read the full text, and note that only the text outside these summaries is considered legally binding.
This policy is effective as of May 25, 2018.
We are Venngage Inc., a company registered and operating under the laws of Canada. We respect your privacy and comply with applicable data protection and privacy laws. If you are a Venngage user or customer, or just visiting our website, this policy applies to you. When you sign-up or use our website and services, you are consenting to the processing of your personal data. Here's how we collect, use and protect your personal data and respect your privacy.
ⓘ Section Summary

Welcome to Venngage! This is our privacy policy. Here you can find information on how we protect your privacy, how we collect data and what data we collect when you use our Service. For more on our Service, refer to our Terms of Service.
When and how we collect data
From the first moment you interact with Venngage (via our website or our application), we are collecting data. We collect data in two main ways - some of the data is provided by you, and some of the data is collected automatically when you interact with Venngage. If you sign up via a third party, like Facebook or Google, or interact with our ads, we also collect some data from them.
Here's when and how we do this: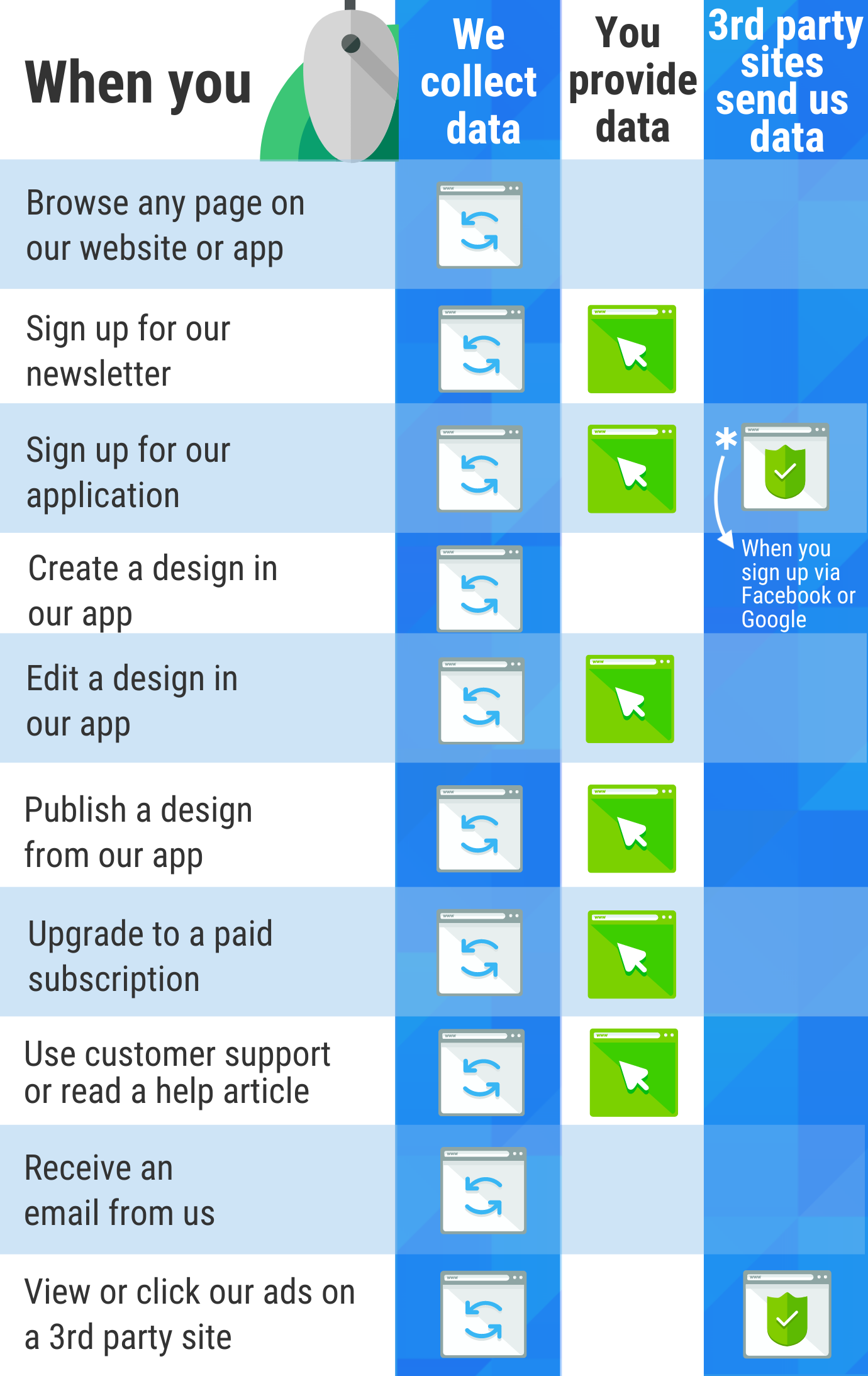 ⓘ Section Summary

We collect data from the way you interact with our website, application and emails, and from third-party sites. You provide data to us, in part, when you sign up for our application, make designs, contact customer support or interact with our application, website or ads.
What types of data we collect
Here are the different types of data we collect from you:
Contact Details
First and last name

Email address
Job Information
The type of organization you work for

Your role
Financial Information
Credit card number and details
Data from your designs
Any personal data you have entered into your designs (ie, resumes, CV,..etc)
Data that identifies you
Your IP address

Device & browser type and version

Time zone setting

Geolocation information about where you might be

Operating system and version

Language preference
Data on how you use Venngage
Your URL clickstreams (the path you take through our site)

Features clicked or used, widgets added on designs, how you customize our templates, and other actions you take on the application

How long you stay on our pages, what you do on those pages, how often
Marketing data
Ads you have clicked and the platform they were served on

Emails you have opened and links clicked
ⓘ Section Summary

We collect data like: your contact details, job information, financial information (for subscriptions), design contents, personal information like IP address, timezone and geolocation information, features you click on or use in our application, and marketing data.
Read more on the types of data we collect, and how we collect them.
Why we collect your data
We use the personal information we collect to operate, maintain, and provide to you the features and functionality of Venngage. We use your data for certain reasons where we have a legal basis to do so. Here are the reasons for which we process your data:
Delivery of our service
We collect your data to deliver our service to you - accessing your account (login and authentication), storing and accessing your designs, remembering your settings, and processing payment.
Personalization of user experience
We also use your data to personalize content on our website and application for you, such as displaying content in your preferred language. We use information of your role, type of organization, and your preferences to recommend templates and designs that are relevant to your work and style. We also recommend templates based on the types of designs you have created on the application.
Improving Venngage
We constantly measure and improve the user experience in Venngage. We use data on how users use Venngage to inform decisions such as new features, updating existing features, identifying and fixing bugs, managing the availability of our service and backend infrastructure, and optimizing the response times of page loads.
Customer support
We use your information to respond to your customer support requests via chat, email or phone. We send you notifications to inform you of updates on your requests and/or other relevant information related to the requests.
Communicating with you
We send you emails to communicate important updates, new features, products and services, updated pricing, promotions and relevant content such as help articles, educational videos and webinars based on your role and the types of designs you have created.
Marketing purposes
With your consent, we may serve you ads based on third party sites such as Facebook and Google.
ⓘ Section Summary

We use the data we collect to make sure Venngage's Editor and other products are provide the functionality you expect and to keep improving on our application. This includes things like making sure you can log in using your credentials, improving existing features and adding new ones, and ensuring our help centre and customer service providers get you the information you need. Any communication you see from us, whether it's emails, videos or ads, is with your consent and we use the data we collect to keep it helpful and relevant.
Your privacy rights
When you log on to the Venngage website, sign up for our Services or log in to use our application, we give you the option to choose your privacy settings, and show you the names of the applications providing cookies. You have the right to opt in or out of letting us collect and store data related to functionality, performance, activity, and essential services.
Functionality
These cookies help us provide you with a more personalized and enhanced experience, and remember your settings.
Performance
These cookies help us analyze how many people use Venngage, where they come from and how they use it. If you opt out of these cookies, we can't get feedback to make Venngage better for you and all our users.
Interaction
These cookies track activity to help show you relevant marketing emails and Venngage ads as you browse the internet.
Essential
These cookies are always on in order to make Venngage safe and usable. With these, we're able to offer you the services you need.
Right of access
You have the right to access information we hold about you, including:
the categories of data we're processing

the purposes of data processing

the categories of third parties to whom the data may be disclosed

how long the data will be stored

your other rights regarding our use of your data
Right to update your personal data
You have the right to make us update incomplete, incorrect, unnecessary or outdated personal data about you.
Right to be forgotten
If you no longer want to use Venngage, you have the right to ask us to erase all personal and user data we hold about you. This includes all data in your account, including your designs.
Right to object to data processing
You have the right to request that we stop processing your personal data for marketing purposes, communication purposes or on other compelling legal ground.
Right to data portability
You have the right to request that your data be exported. If you are part of a Business or Education account with other users, we will not do so to the extent that this involves disclosing data about any other user. We will provide a copy of your data in JSON or CSV format.
Right to withdraw consent
You have the right to withdraw your consent at any time.
You can exercise your rights by sending us an email at info@venngage.com. We will comply with your request as soon as we can, no more than one month of your request.
ⓘ Section Summary

You have specific rights regarding access to the data that Venngage collects, related to how you use our services and communications you receive from us. To request this data, update it, or delete it, please contact us.
Privacy of Children
Protecting the privacy of young children is important to us. Venngage services are intended for general audiences and are not directed towards young children. Children under 13 are not allowed to register with our website. We do not knowingly collect personal information from children under the age of 13 without the consent of their parents or guardians. In the event that we learn that we have collected personal information from a child under 13 without parental consent, we will delete that information as quickly as possible.
How long do we store your data
We will routinely archive and delete your data when you no longer use our services or interact with our communications.
We will stop actively using any personal identifiable information about you within 26 months from the last time you used Venngage or interacted with our communications.
We will delete your personal data from our archives no later than 8 years from the last time you used Venngage, interacted with our communications, or as agreed with you in a separate contract.
ⓘ Section Summary

When you stop using our service or opening our emails, we'll archive any personal, identifiable information associated with your profile within about 26 months from the last time you did. We'll delete your personal data from our archives no later than 8 years from the last time you used Venngage, interacted with our communications, or as agreed with you in a separate contract.
How we store your data
We consider the confidentiality and security of your information to be of the utmost importance. We will use industry standard physical, technical and administrative security measures to keep your personally identifiable information confidential and secure.
Because the Internet is not a 100% secure environment we cannot guarantee the security of personally identifiable information. Please remember that:
You provide personal data at your own risk. Unfortunately, there is some risk that an unauthorized third party may find a way to circumvent our security systems or that transmission of your information over the Internet will be intercepted.

You are responsible of your username and password: keep them secret and safe!

If you believe your privacy has been breached, please contact us immediately on info@venngage.com
ⓘ Section Summary

We do everything we can to keep your data safe, but there is still minimal risk associate with using any online service. Keep your password and information secret and safe, and if you see any communications from us or content on our website that seems fishy, let us know at info@venngage.com.
Third parties who process your data
We use third party providers for a variety of data processing, storage, and communication needs. We believe these third party providers are the best-in-class in their respective roles. The following are our main third party service providers, and what data they collect or we share with them, and why they need it: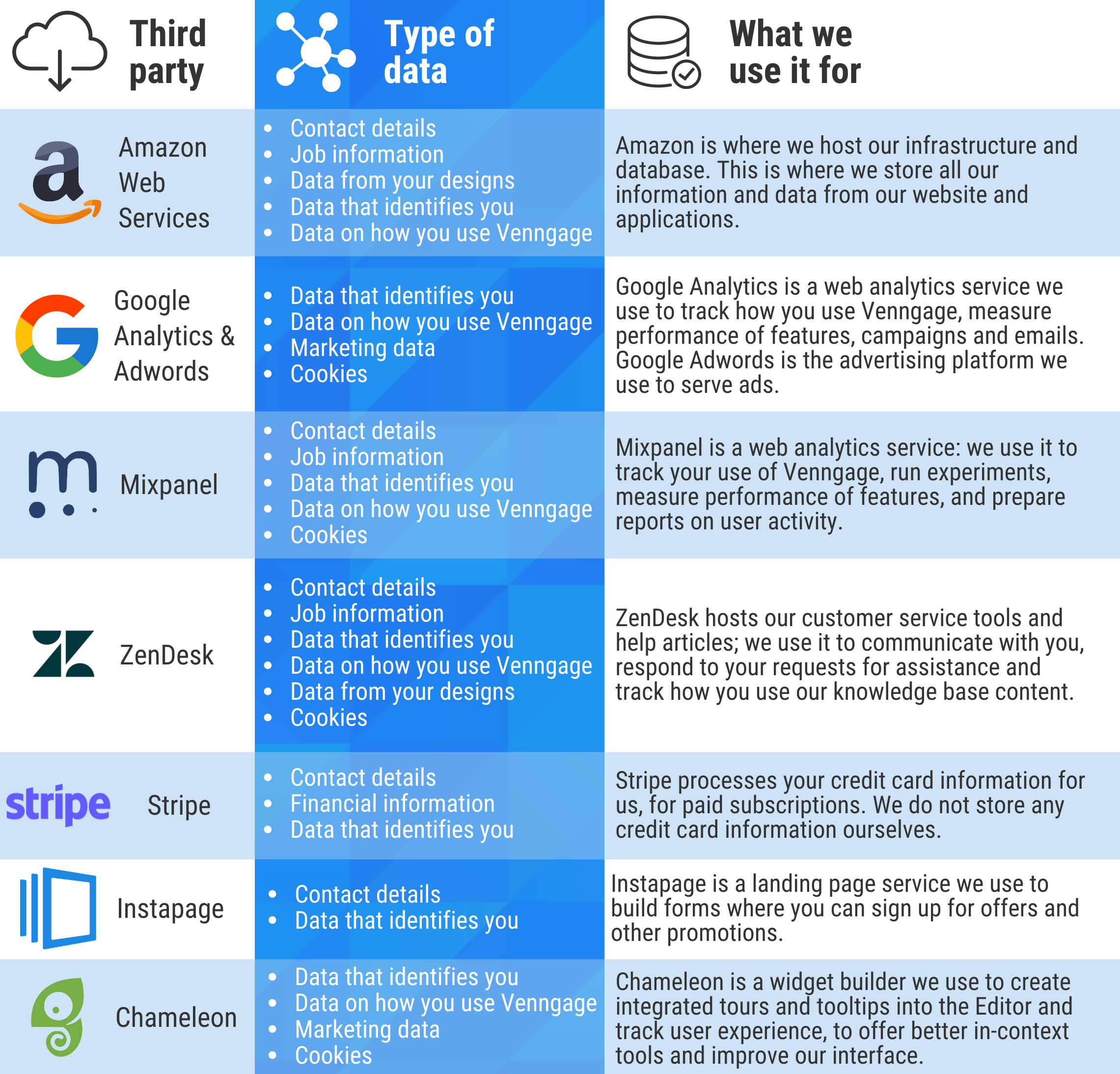 More Information on cookies
What are cookies
Cookies are pieces of text that may be sent to and saved by your web browser when you access our website. Web beacons are small graphic files linked to our servers that allow us to track your use of our website and related functionalities. Cookies and web beacons allow Venngage to serve you better and more efficiently, and to personalize your experience on our website.
Your web browser stores these cookies in a way associated with each website you visit, and you can see your cookies through your browser settings.
How we use cookies
We use cookies to enable our servers to recognize your web browser and tell us how and when you use our services. Our cookies do not, by themselves, contain information that personally identifies you. However, we do use cookies to identify that you have logged in and that your web browser has accessed aspects of the services, and we may associate that information with your account if you have one. This information, in turn, is sometimes used to personalize your experiences on the services.
If you have consented to receiving marketing communications, we may use third-party cookies to serve our ads to you on third-party sites.
How to block cookies
You can opt out of specific cookie collection from your account settings. You can also block cookies by activating a setting on your browser allowing you to refuse the setting of cookies. You can also delete cookies through your browser settings. Please visit the help pages of your web browser for specific details.
Please note that some cookies are essential to our service's functionality. If you delete cookies or refuse to accept them, you might not be able to use some or all of the features we offer. You may not be able to log in, store your preferences, and some of our pages might not display properly. Please note that where third parties use cookies we have no control over how those third parties use those cookies.
ⓘ Section Summary

We use third party providers for our data processing, storage, and communication needs, and to build additional tools that improve the user experience. These providers use cookies to collect data, without personally identifying details, but which are associated with your account and how you use our application. You can opt out of providing these cookies; however, this could cause issues with how our application runs on your device or cause the application to stop working entirely.
Sharing of personal information
Venngage does not sell, lease, rent or otherwise disclose your personal data to third parties unless otherwise stated in this policy.
We may share your personal data if we have your consent to do so.

You may access third party services through the using of our services, for example by clicking on externally-pointing links. You may also choose to share information that you have created in our website (infographics, charts, designs and similar), with those third party services (for example, by syndicating posts to Twitter or Facebook). This Privacy Policy only governs information we collect and you are responsible for reading and understanding those third party services' privacy policies.

We may be obligated by mandatory law to disclose your personal data to certain authorities or other third parties, for example, to law enforcement agencies in the countries where we operate. We may also disclose and otherwise process your personal data in accordance with applicable law to defend Venngage's legitimate interests, for example, in civil or criminal legal proceedings.

If we decide to sell, buy, merge or otherwise reorganize our businesses in certain countries, this may involve us disclosing personal data to prospective or actual purchasers and their advisers, or receiving personal data from sellers and their advisers. By using this site, you acknowledge that such transfers may occur, and that any acquirer of Venngage may continue to use your personal information as set forth in this policy.
ⓘ Section Summary

We don't share any of your personal data, with the exception of the third party providers we identify in this policy. We may share your personal data if we have your consent to do so, or if we are directed to under law in the countries where we operate. If Venngage is sold, bought, or merged with another business in any of the countries where we operate, our policies around how we share and manage your data may change, and those changes will be reflected in our privacy policy.
How to contact us
We're always keen to hear from you. If you're curious about what personal data we hold about you or you have a question or feedback for us on this policy, our websites or services, please get in touch.
As a technology company, we prefer to communicate with you by email – this ensures that you're put in contact with the right person, in the right location, and in accordance with any regulatory time frames.
Please send us an email at info@venngage.com.