Color blindness and other visual impairments like cataracts or low vision make it harder for those who experience it to distinguish between different, non-distinctive visual elements.
Venngage makes it easy for you to create engaging, visually appealing designs that are still accessible for viewers with visual impairments, to ensure that your work will be appreciated and understood.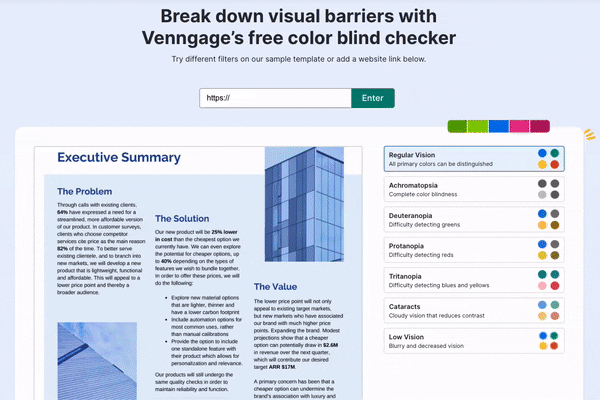 Check the accessibility of your website or design
Use our visual simulator to see any website or image with a working URL the way someone with color blindness, cataracts or low vision might.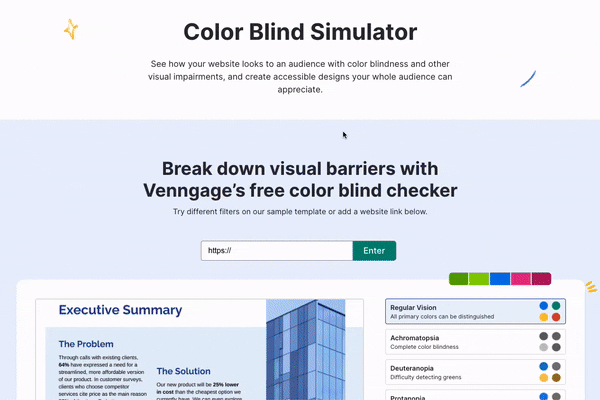 Just copy-paste your design link, web or image link into the simulator URL field and use the menu in the right side bar to apply different filters representing different vision levels: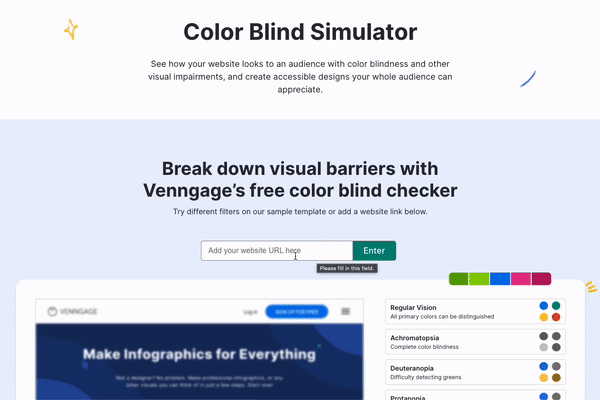 Regular Vision: all primary colors and their variants can be distinguished
Achromatopsia: Complete color blindness (everything appears in shades of grey, black and white)
Deuteranopia: Difficulty detecting greens (most colors appear in shade of blue, yellow or brown)
Protanopia: Difficulty detecting reds (most colors appear in shades of blue, yellow or brown)
Tritanopia: Difficulty detecting blues and yellow (most colors appear in shades of green, red or pink)
Cataracts: Cloudy vision that reduces contrast (makes it harder to distinguish between similar colors or shades)
Low Vision: Blurry and decreased vision (makes it harder to see smaller visual elements and texts, and to distinguish between similar colors or shades)
Want to run your design through a simulator before it's finalized? Use the visual simulator in our upgraded Editor.
We provide a ready-made example with one of our design templates, to give you an idea of how you design will look filtered through our simulator.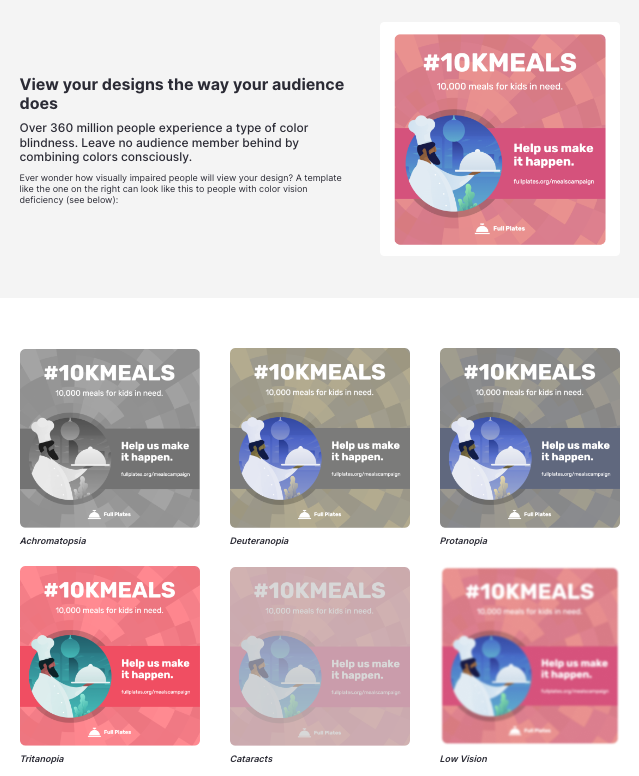 Curious about upgrading? Compare our plan features side by side.