Hyperlink text in your design, so that readers clicking on it can navigate to another page in your design, or to a website, or access an email address.
Link to a website/URL/web address or email
Select the text that you want to hyperlink. Selected text will appear with a light blue highlight. You can select any text that appears in a text box, as part of a flowchart or mind map diagram shape (node), etc. Images of text (and regular images) can also be hyperlinked.
Click on 'Link' in the top toolbar. The button looks like two connected chain links.

Type the web address into the text field that expands when you click Link in the top toolbar.
By default, any web address you enter will appear with a " https:// " prefix, automatically (even if you type in the address without it).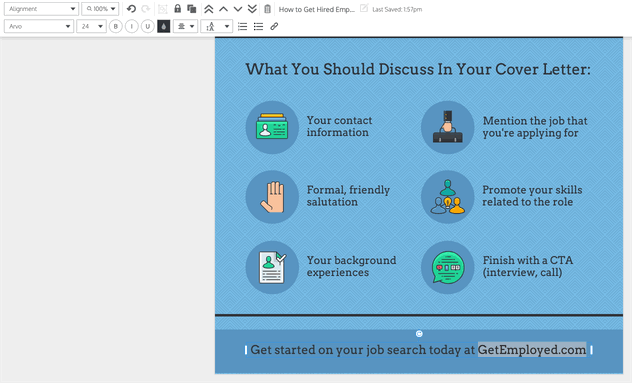 Link an email address by typing " mailto: " before the email address in the text field.

Click anywhere outside the link text field to confirm the link.
Link to another page in the design
For multi-page documents, like reports, presentation slide decks or proposals, linking pages to refer back to them or create a table of contents is easy with page linking.
Select the text you want to hyperlink. Click the Link button on the top toolbar. When you click the text field, a drop-down with the pages in the document will appear. Click on a Page to hyperlink the text to point to it.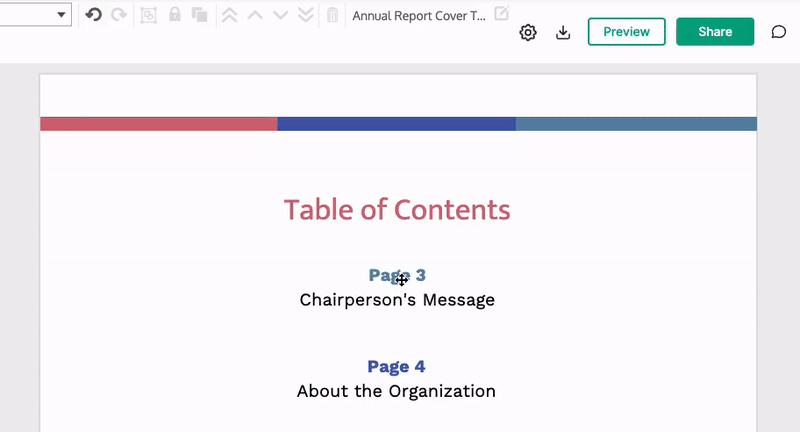 Test your links by entering preview mode and clicking on hyperlinked text to jump to the linked page.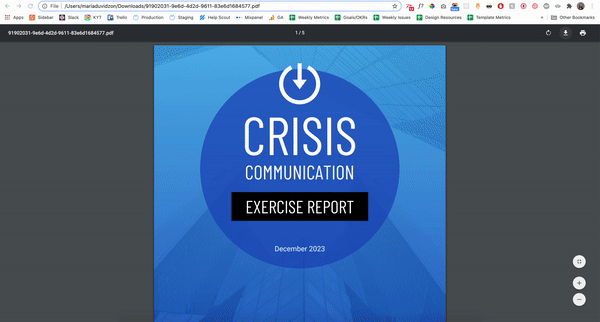 Link styling
Once you add the hyperlink, the text is automatically underlined. You can remove the underline by selecting the text and clicking on the underline button on the top toolbar. Or, add another style to the text the same way; select the text and click Bold or Italic to apply the style.
Remove a link from text
Select the hyperlinked text again and click the link button on the top toolbar to expand the text field. The URL (web address) you entered will appear in the text field.
A close up of the top toolbar in the Venngage Editor. The link button is selected and highlighted, in addition to the text field for the link, which shows the URL 'getemployed.com'. At the right end of the text field is an 'x' in a circle.

In the link text field, click the "x" in the circle at the right end, after the URL.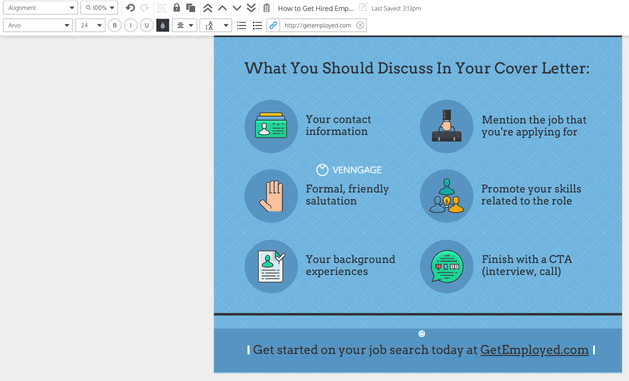 Curious about upgrading? Compare our plan features side by side.