Improvements to our upgraded Editor 🦾🌱
Map charts, donuts and half-donuts, stat charts
🗺️ Map charts available under the Charts menu
Add choropleth maps to your design to represent geographic data. Canada and USA maps are free for all users; find our more about available maps.

Import your own spreadsheet, or add data to maps manually or copy-paste.

Customize maps with color gradients and presets, labels and legend styling for accessible readability.
🥧 Half-pie and Half-donut charts
Adding half-pie and half-donut to the left panel. They have the same settings as regular pie chart:
Swap between compatible charts

Customize chart color, adjust the x- and y-axis ranges, apply patterns and add labels and text with the legend tools
Data formatting for line, area and stacked area charts
Include separators and specify the decimal precision for line, area and stacked area charts.
Edit Stat Charts more easily
Click once on the area you want to edit a stat chart: clicking on the chart portion will bring up controls to swap chart type, change value, change the chart colors, control corner rounding and donut hole size, and add or remove labels and alt text. Clicking on the value portion will bring up tools to change the value and its appearance (font, font color, styling).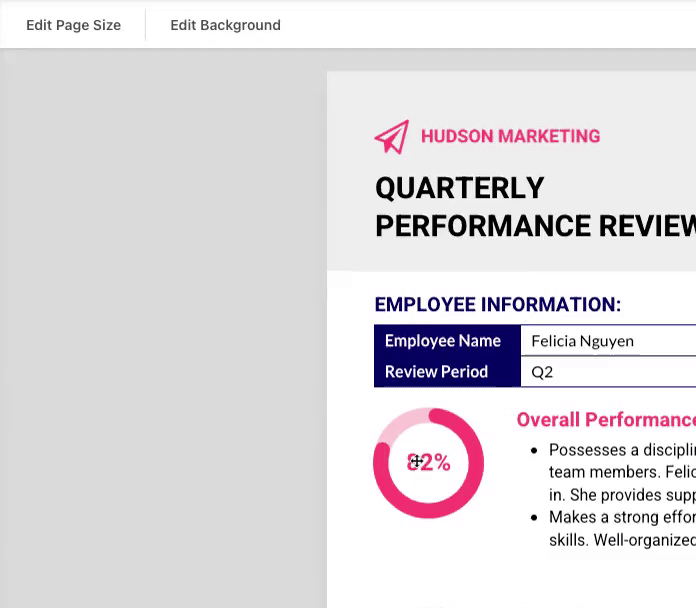 Resize templates to fit design width
When you add a template page to a canvas in the Editor and the template page is wider than the design canvas, the template page is automatically scaled down to fit the width your design.
Accessible templates and more in the upgraded Editor
Our upgraded Editor now supports design templates pre-made to be accessible, and regular templates you can customize for accessible design.
Look for the accessibility symbol in the bottom-right corner of pre-designed accessible templates to try them out, or browse our Accessible templates category!
We've added new template options for generated card designs. These new templates include icons, which are updated to match the topic of the card.
Curious about upgrading? Compare our plan features side by side.