Who can edit designs together?
Users on a Business or Enterprise account Team members and administrators on a Venngage Team can edit designs together and share templates with other users in their organization.
Share your designs so that your colleagues have access to them
Multiple team members can work on one design in real time from the comfort of their own device.
Share in Team Designs (on a Business account)
Toggle on "Share with team" from the Share modal to add your designs to the Team Designs page and make them accessible to other members of your organization.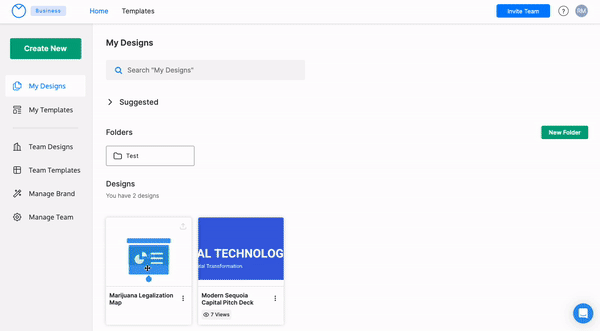 Your teammates can only view the designs that you share with them.
After you turn on Team sharing, the design becomes available for them in the Team Designs folder. which they can access in the left sidebar of the Home page.
Share in a Group (on an Enterprise account)
Click the kebab menu on a design thumbnail on your My Designs page, and click "Share", or click the "Share" button inside of the Editor.
From the Share modal, enter the name of the Group you want to share the design in.
Collaborate in real time
Click "Edit" on a design in Team Designs (Business accounts) or in a Group (Enterprise accounts) to open it in the Editor.
When the design is in open, your initials will appears in the top right corner, above the top toolbar. The initials of any other users that open the design in the Editor and work on it at the same time as you will appear under yours.

Share a template for others to copy
When you share a template with other users in your organization, they can create their own copy of the template to work on.
Find the template you want to share with other users on your Home My Designs page, or choose from any design on your My Designs page or on the Team Designs page.
Click the kebab (three vertical dot) menu beside the title of your design to bring up the settings menu.
Click "Save as Template" and select "Team Templates".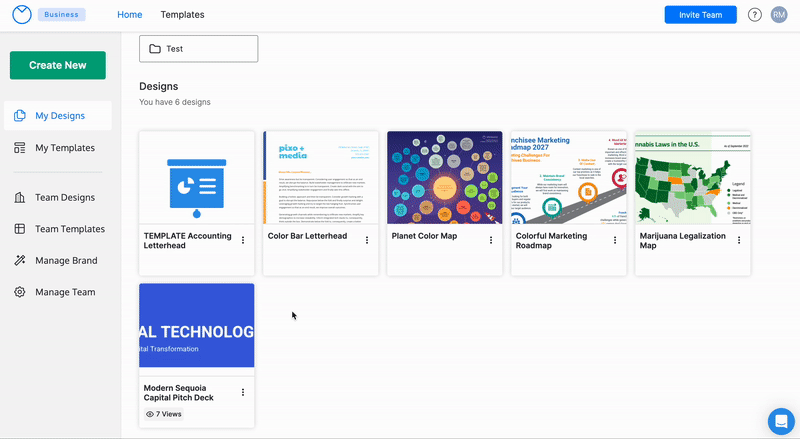 Need more help? Check out our series on sharing with your Team (Business accounts), and our series on working together in Groups (Enterprise accounts).

Curious about upgrading? Compare our plan features side by side.