Presentation files can be created in the Venngage Editor and exported in a file format compatible with Microsoft PowerPoint and other apps that support presentations.
Download your presentation slides
Create and customize a presentation template in the Venngage Editor.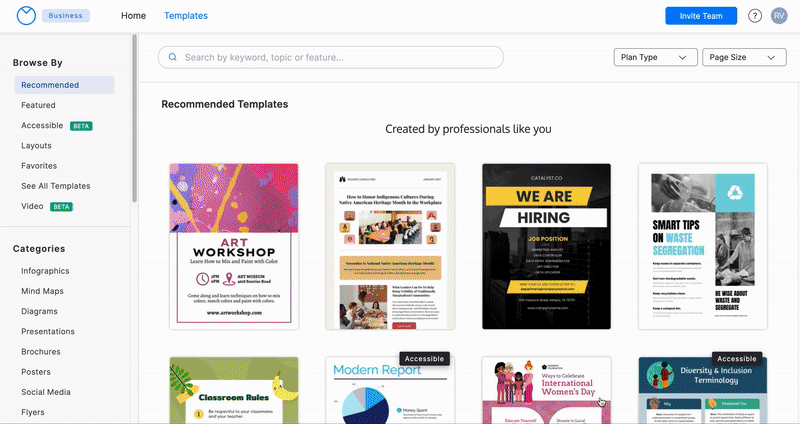 When you're finished and ready to save the file to your device, click Download in the top toolbar.
Select the PowerPoint file format for export. If the file contains quite a few slides, you might see a message that the download will take a bit to download; when it's complete, you'll receive a notification.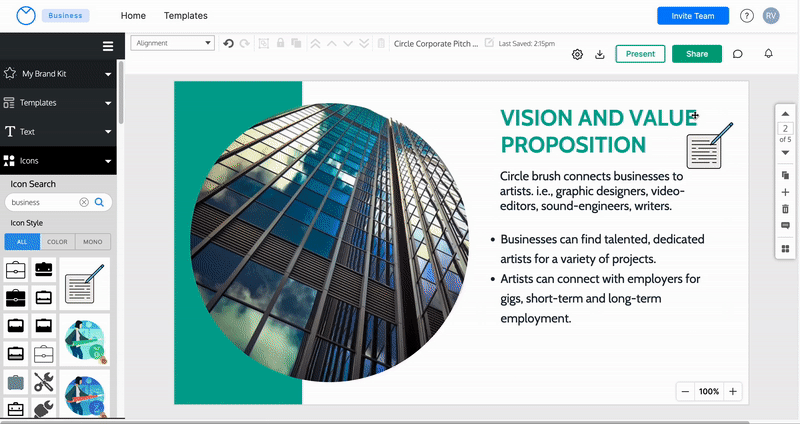 Locate the file on your device: the *.pptx extension will appear on the file name.
Import this file into apps like PowerPoint, Google Slides, or Keynote and make further edits to it as you like.
Frequently Asked Questions
What sort of changes can I make to my design in other presentation tools?
Depending on the app you import the file into, you can make changes like resizing shapes, images and text in text boxes, rotating them or rearranging them on the slide.
Some elements with a color fill, like shapes, can't be changed; you'll be able to modify the color of other elements, like text in text boxes.
Add any additional elements using the tools in the app you import the file into, like text, shapes and images.
Add animations to elements on the design canvas using the tools in the app you import the file into.
My fonts changed when I opened the design in PowerPoint, what should I do?
Fonts may not display correctly when you open a design in another presentation tool; this can happen if the file associated with the font you used in the Venngage Editor isn't available in the app you're using to modify your file, or if you don't have the font file on the device you're using to modify the file. There are a couple ways to address this:
Download the font file to your desktop

. Install the font, and close the presentation file without saving it. Reopen it in the application and check that the font is available; it should display correctly. Still not working? Try downloading the file from the Venngage Editor again, then reopen it in the application on your device.

Use a different, similar font. Google Fonts offers a bunch of packs you can preview and download for free.

Create text images instead of text

boxes. If you can't get the original font file or it's not displaying correctly, you can create custom images (we suggest using *.png files for a transparent background) and upload them in the Venngage Editor, and use them as you would text boxes. This works best for things like headings and larger text; keep in mind that the resolution of the images should be high enough to scale.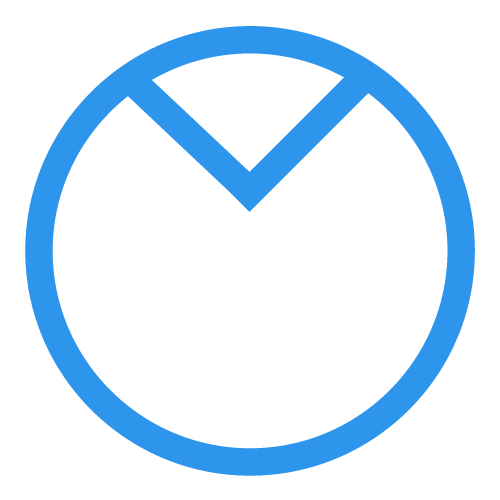 Curious about upgrading? Compare our plan features side by side.