Setup
If you did not have a Venngage account before being added to a team, follow these steps:
Click the link in the invitation email. You are asked to set up an account with your email and to create a password.

Complete the setup by answering the onboarding questions. Your answers are used to generate template recommendations.

To see who is on your team, go to the My Team section under Manage.

To see your team's shared designs, go to the Team Designs section under Team.
Permissions
Use this guide to understand what permissions are available for your account: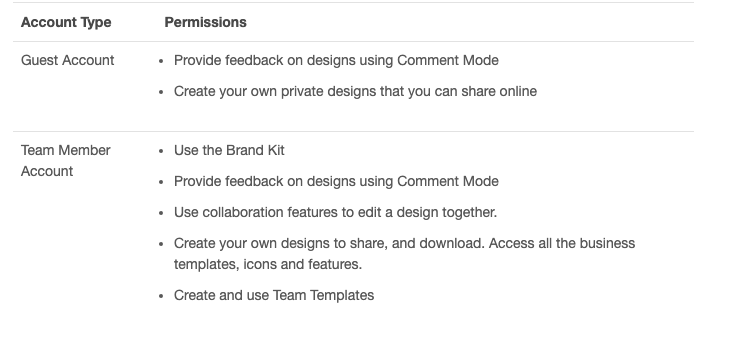 Comment on a design
Both guest users and team members can add comments to designs using these steps:
Go to the Shared with Me folder under My Designs.

Click Preview on any of your team's shared designs.

Enter comments into the comment box on the bottom right of the page.

Click Post to share the comment.
Access shared designs
Team members can use this guide to access designs that are shared with the team:
Log in to the account and go to the My Designs page.

Click the Shared With Me folder on the left side of the screen.

There are a number of things you can do with a design that is shared with you.
Curious about upgrading? Compare our plan features side by side.